Have you sat at your children's swimming lessons watching the swimmer's faces as they achieve a new skill, master something they have been struggling with or jump in the pool on their own for the very first time. Do you marvel at the teacher's patience, imagination and skills and think "I would like to do that?
Swimming teaching is a very rewarding career, and nothing beats seeing children enjoying themselves in the water and growing in confidence to become competent swimmers. The reality is though that its not always an easy one.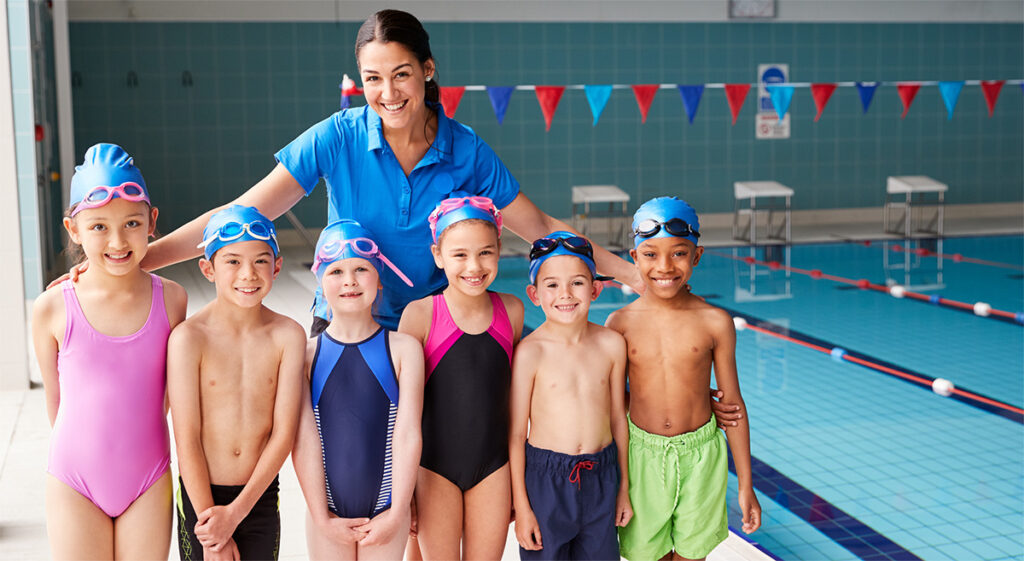 Qualifications
There are 2 awarding bodies that provide Swim Teacher qualifications, Swim England (SE) and the Swimming Teachers Association (STA). To become qualified to teach swimmers from beginners to advanced this is a two-stage process for both bodies. More information can be found here:
https://swimenglandqualifications.com/
https://www.sta.co.uk/become-a-swimming-teacher/
It is always worth looking at employers in your area as some will only accept qualifications from one of the awarding bodies.
In addition, to work as a swimming teacher you will need a teachers rescue qualification, safeguarding certificate, and an enhanced DBS to work with children. You will also need membership of the Institute of Swimming (IOS) or STA.
You don't need to be of club swimming standard, but you do need to able to swim and have a good understanding of the 4 strokes as accurate demonstrations are critical.
If you would like to teach babies and pre-school children, there are additional qualifications for those too also offered by SE or the STA.
There are also a series of coaching qualifications offered by SE if you want to coach swimmers at Club level.
CPD's Continuing Professional development
Both SE and the STA run regular training for your continuing professional development. These could be anything from swimming games to correcting faults. CPD's vary in cost too, there are many free CPD's available but can cost up to £60.
Working hours
If you click on the above links both SE and the STA, say that hours are flexible, and you can fit them in around your family life/ other commitments. This may well be the case but as most swimming lessons are after school and at weekends, a willingness and flexibility to work these hours will give you greater chances of getting a job in the industry. There are opportunities for daytime work running parent and child classes and school lessons, these are highly sought after hours and only make up a very small proportion of lessons.
Another thing to bear in mind is that a growing number of swim schools swim throughout the year including on school and bank holidays. Continuing with swimming lessons throughout the year has been proven to consolidate skills learnt and helps children progress quicker. It is no longer a term time only profession.
Shifts vary in length from an hour & on occasion up to 6 hours but most commonly between 1 and 4 hours.
Swimming teaching is rarely a full-time job and often hours need to be built up. Being flexible and being available for cover is good way of getting a way in to a swim school and then being considered for hours when they become available. It is not unusual for teachers to work for several swim schools with just a few hours at each one.
Pay
Swimming teaching pays competitively and is usually an hourly rate either on an employed or self-employed basis. Check what additional benefits you will be receiving e.g., pension, holiday pay etc.
Some swim schools may have a position that not only includes swimming teaching but could include other duties such as reception, lifeguarding, cleaning etc. The hourly rate for these positions is generally lower but the shifts often longer.
Experience
Although you can teach swimming lessons once you have achieved the required qualifications nothing beats experience. Work as an assistant alongside as many teachers as you can to broaden your knowledge and create a toolbox of techniques, games, and activities to help the children achieve the desired outcomes. Volunteering at your local swim club is another great way of building your knowledge of teaching / coaching at a higher level.
Communication
Effective communication is an essential part of being a swimming teacher. Good verbal communication skills are required when delivering the lessons, this should be appropriate to the age and level of swimmers. If you are working with / as an assistant, it is important that communication between teacher and assistant is effective and sufficient to ensure you are both on the same page.
Physical communication is also a key requirement. Ensure your demonstrations are accurate and appropriate and an aid to learning.
Be prepared to get wet
Many lessons are conducted in the water, be prepared to put your face in, disappear under to demonstrate and get your hair wet. Don't expect a swimmer to do something you are not prepared to do yourself.
Enthusiasm
Have bags of it. The best teachers are the ones with passion who never want to stop learning. There is a wealth of resources out there from face book groups, you tube videos books and courses.
If you think it's the job for you. Give it a go, you won't regret it.